Writing an objective review of Royal Bank of Canada means taking two things into account – personal experience and the RBC reviews of other people. As it stands, the general consensus among customers is extremely mixed to say the least.
Depending on where you look, Royal Bank of Canada reviews vary from predominantly positive to absolutely terrible. There are those who label the bank's customer support team rude, said the service they received at their local branch was disgusting and that their entire experience of RBC was poor.
As you'd expect, there are also those who paint a much different picture of the services available at RBC and its personnel. Hence, it's difficult to reach an objective conclusion – particularly when you've so many calling RBC one of the not-so-good banks in Canada.
Still, read between the lines when consulting customer feedback and the ratings aren't necessarily as bad as they appear to be.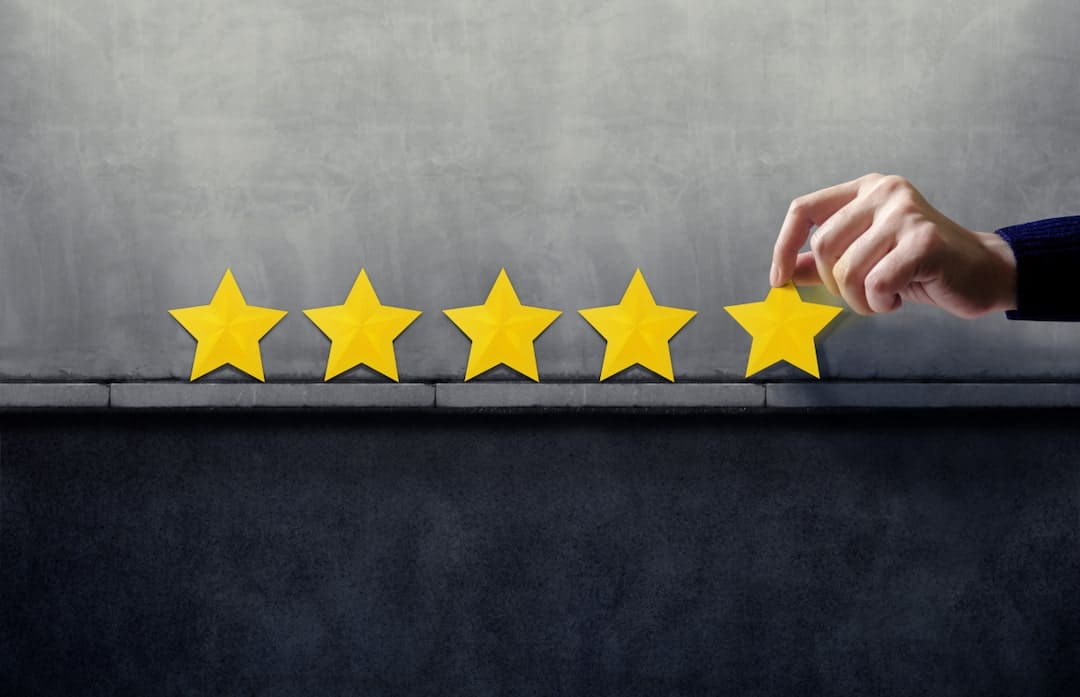 Royal Bank of Canada: A Mixed Bag of Feedback
Keatext recently conducted an extensive analysis to gauge the current overall customer satisfaction rating at RBC. Upon completion, it turned out that the bank had a score of 794 out of 1,000. Not only is this fairly reassuring on the surface, it's also slightly higher than the national average of 788 points.
This would suggest that in terms of overall satisfaction, RBC seems to be getting the job done right for its customers.
Elsewhere, you have the bank's frankly terrible star rating on Trustpilot. Regarded as one of the world's most reliable and influential review platforms, RBC is currently hovering around a star rating of just 1.3. All of which accounts to a 'Bad' score on the platform, reflected in the long list of bad customer reviews published below the bank's star rating.
But what's important to remember is that with review services like Trustpilot, customers are exponentially more likely to leave negative feedback than positive praise. It's been proven time and time again that consumers instinctively take to the web when they want to complain, but aren't nearly as quick to say positive things about accompany.
Of course, any bank that attracts enough complaints to earn such a low star rating is going to be scrutinised heavily by new and existing customers. But when you actually look at what's on the table in terms of products and services, how does Royal Bank perform?
The Royal Bank of Canada (RBC): Canada's Biggest Bank
Along with being the largest bank in Canada, RBC is also something of a household name due to its sponsorship of countless major sporting events each year.
There are currently 4 main checking accounts are available at RBC, as follows:
• RBC Day to Day Banking
• RBC No Limit Banking
• RBC Signature No Limit Banking
• RBC VIP Banking
Opting for the entry-level offering – which is what most people do – you get 12 free transactions per month, after which the rest attach a fee. At the top of the table, the VIP account offers unlimited debits, Interac e-transfer, free drafts, discounts on safe deposit box rentals, and up to $120 fee rebate on select credit cards.
As an added bonus, customers with any RBC checking account who buy gas at Petro-Canada stations get a discount of 3¢ per liter, with an additional 20% more Petro-Points up on linking their RBC debit card.
Likewise, there are four standard savings accounts customers can open at the bank:
• RBC High-Interest eSavings
• RBC Enhanced Savings
• RBC Day to Day Savings
• RBC U.S. High-Interest eSavings
Despite being called a high-interest savings account, the interest rate currently being offered by RBC is just 0.05%. This is basically as good as 0% for the vast majority of savers, as you'd need a small fortune in your account to have any real gains with this kind of interest.
At which point, you'd be better switching to a specialist product or GIC to make the most of your money.
Current Interest Rates Advertised at Bank of Canada
Across the board, it's fair to say that interest rates at Bank of Canada are definitely not the best. Though they are also far from the worst, as you'll often find even lower interest rates being advertised by other financial institutions and service providers.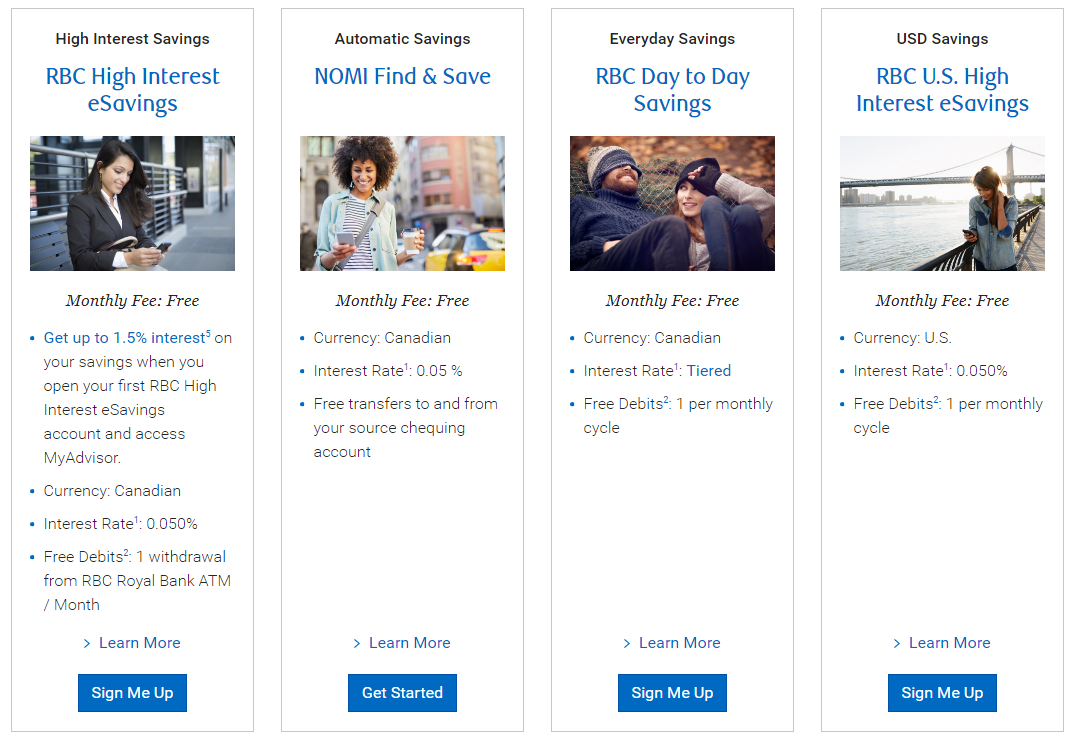 For comparison, we suggest that you read these INCOME.ca reviews:

– best no-fee banks
– best savings accounts
– best banks for small business
– best banks for students
– best chequing accounts
RBC Visa Credit Cards Review
Customers looking to pick up an RBC Visa have a handful of options to choose from, including those with cashback offers, travel incentives, low interest, and no-annual fees. The process of applying for a credit card is relatively simple, with the option to apply online, call a customer representative or head to a branch in person.
Though judging by the general consensus, the in-branch option could be significantly less convenient – particularly if heading to a branch in Toronto or Montreal.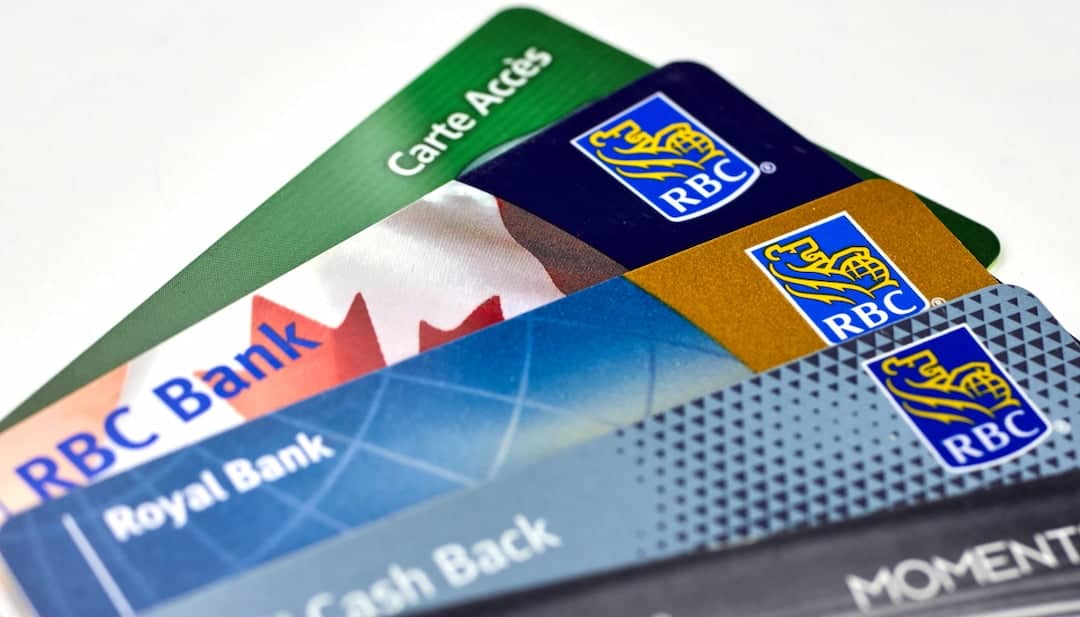 Customer Experience Review
In terms of my own experience, I didn't find interacting with RBC nearly as awful as a lot of others apparently have. 2.8 out of 5 on Google Reviews and 1.09 out of 5 on ConsumerReports.com – there's a lot of negative press about the customer experience at Bank of Canada.
As for why, I can to an extent see where people are coming from. In a way, it's a little like RBC is making a meal of the whole switch to 21st-century banking norms, which have become the standard expectation for most customers.
Personally, I very rarely visit a branch of a bank, or do anything over the phone. I handle everything online and via a handful of mobile apps – depositing cheques, paying bills, transferring money, managing my mortgage payments and so on. Hence, there's not a great deal I could tell you about the staff working for the banks I've dealt with now or in the past, as I've rarely had to contact them.
With RBC, it seems that it's when customer support is sought by phone that things go wrong. People being forced to wait on the line for an eternity to speak to the right person, countless instances of the left hand not knowing what the right hand is doing and overly complex security procedures that complicate things even further.
The thing is, if you're already annoyed by the time you get to speak to someone, you're instinctively more likely to interpret them as rude, unprofessional and impersonal. For me, the staff I spoke to at RBC for the purpose of this review was comprehensively polite, helpful and accommodating.
I'm not disputing the experiences of others, but my own personal experience with RBC really wasn't that bad.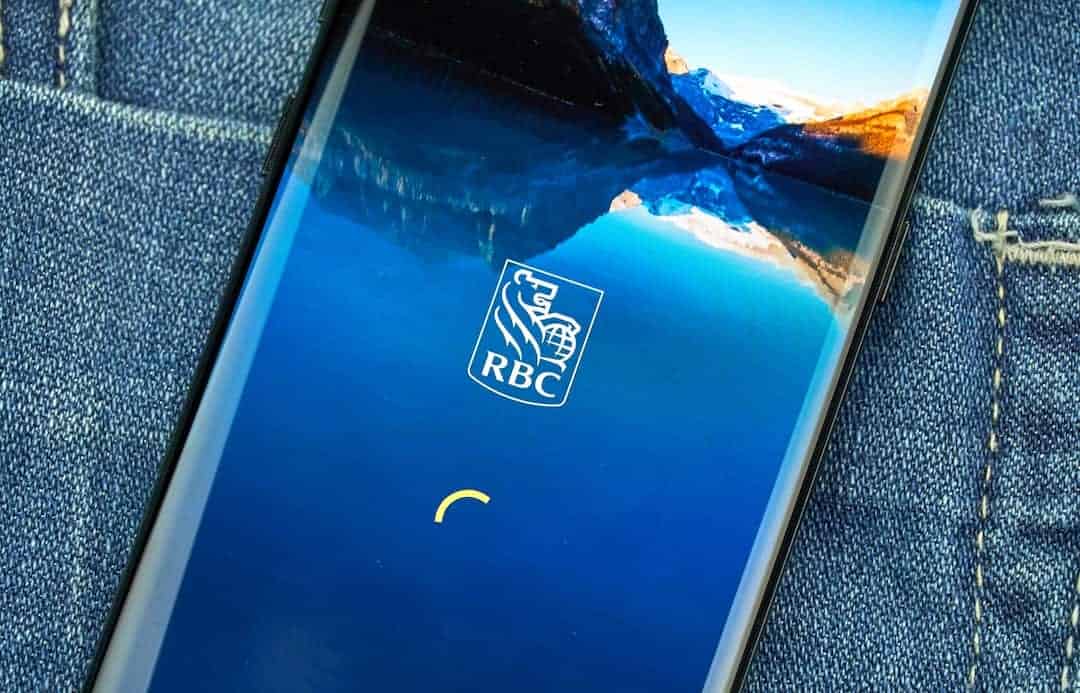 Slightly Sales Heavy
One thing that is clear while dealing with the staff at Bank of Canada (by phone) is that they're certainly not shy of upselling. I know, it's their job and they're no doubt told they have to, but the conversation has a tendency to become slightly sales heavy.
You're simply looking to follow upon a cheque you paid into your account when you find yourself being presented with all sorts of business banking and mortgage offers. Most of which I have to say were clearly of no use or relevance to me whatsoever, which isn't hugely reassuring.
But still, the personnel in question were at least nice to talk to – nothing too pushy.
Online Banking Review
Most account features and functionalities can be accessed, utilised and managed online. The brand's online banking service is decent enough, and there's a fair amount of helpful information available on the portal.
Still, I can see where people are coming from when they talk about the online banking facility being somewhat clunky and cumbersome. It gets the job done and is helpful enough, but isn't nearly as intuitive, streamlined, or user-friendly as the online offerings of other banks.
Still, it gets the job done well enough to negate the need to visit a branch in most instances. Or call the bank's customer support line, though again the folks on the other end seemed friendly and helpful enough to me.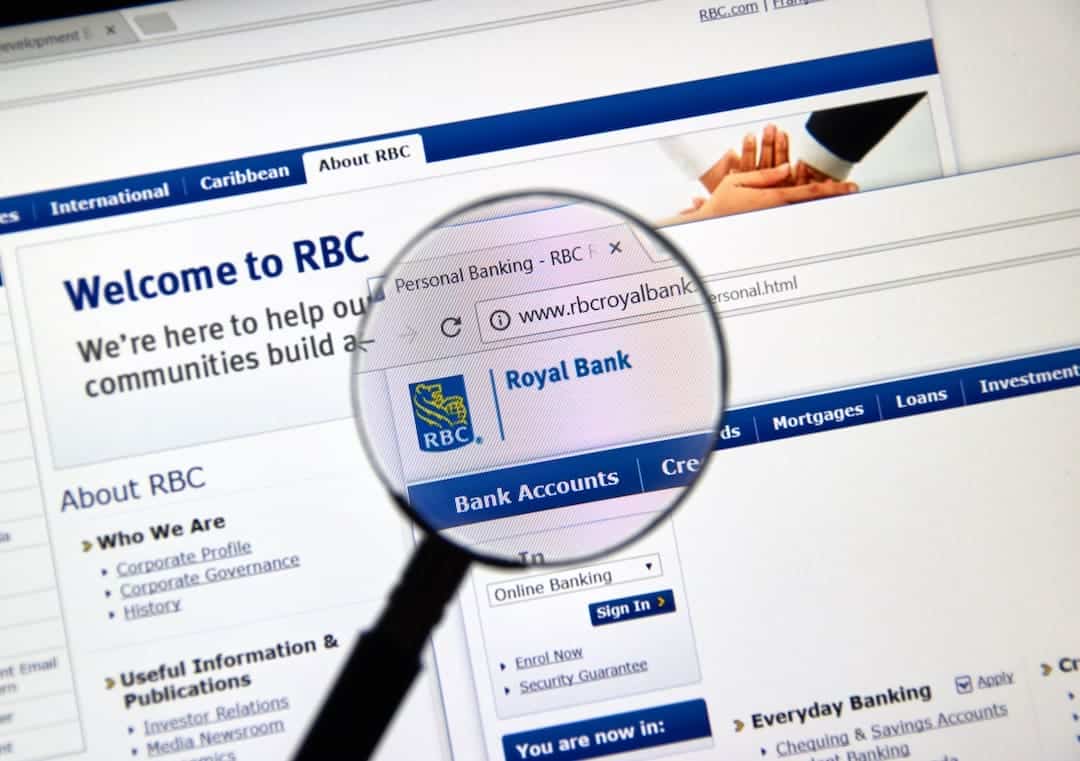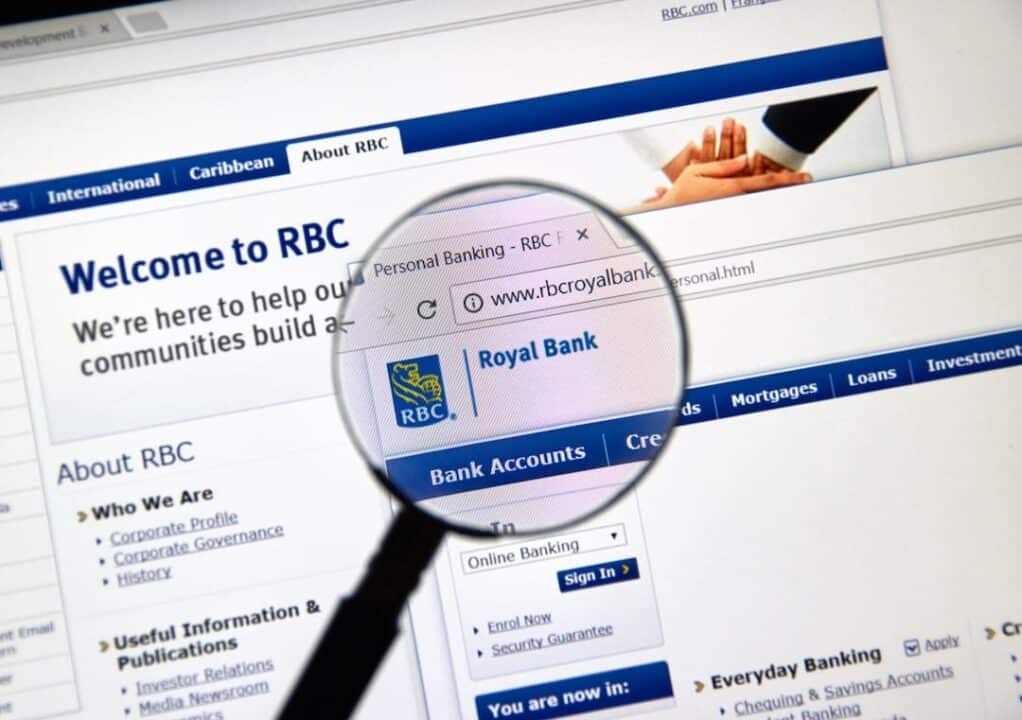 ATM Access
Access to ATMs during the day is definitely not an issue for RBC customers. You're never far away from a Bank of Canada ATM location, or at least an ATM that's connected to the bank's extensive ATM network.
Interestingly, I came across a huge contingency of complaints regarding ATM access after hours. Outside normal business hours, it's a case of using your card to open the door to the foyer where the ATM is located. Far from an occasional malfunction, it seems these doors regularly don't open at all.
Not an issue I personally encountered, but something it seemed prudent to bring up. I've never had any major problems with any Royal Bank ATM, aside from the fact that they do seem a little on the slow side when processing even the most basic transactions.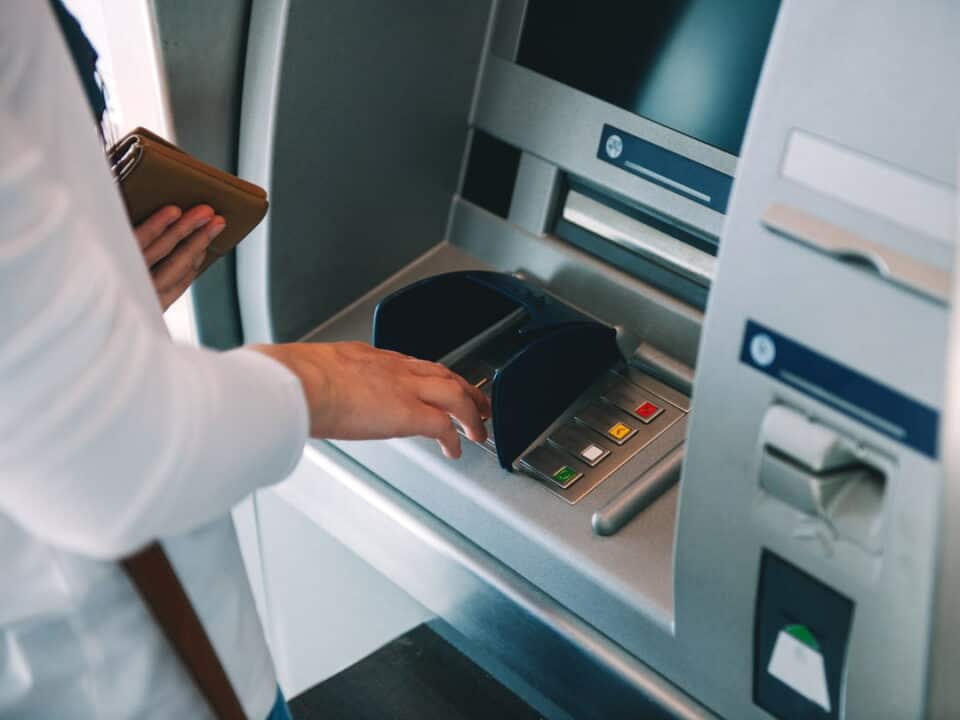 The Bottom Line
Truth is, the main reason it's hard to give Bank of Canada a glowing review is because there are better banks out there. Again, it's by no means the worst financial institution of its kind doing business in the country. If it's the only reputable bank you have access to in your area, you'll find most of what's on offer decent enough.
Elsewhere, it's advisable to consider the alternative offers from the other providers you have access to. Simply for the sake of a more intuitive online experience, better interest rates on basic savings accounts and (apparently) fewer issues accessing ATMs outside office hours.